KIDS CONQUERING SICKLE CELL WISH LIST
We make a living by what we get, but we make a life by what we give." —Winston Churchill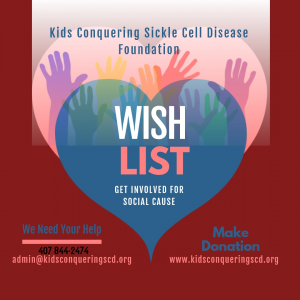 $25 shopping Gift Cards – Wal-Mart, Target, Trader Joes, Publix, Winn-Dixie, Etc. Gifts Card Help families purchase grocery.
Many families also experience frequent hospital stays so gift cards greatly financial assist families with limited resources.
A Gift of Hope Support   -Your Donation Will Assist Us to Supply Toys & Resources for our Gift of Hope Program to Families with Frequent Hospitalizations. Many children & young adult warriors experience frequent hospitalizations. Our Young Adults are most forgotten. Some patient experience holidays & birthdays being hospitalized. We are committed to be a support to children & warriors in transition experiencing hardships.
Please Consider Donating:
Children s Toys – All Ages
I-Tunes and Games Stop Gift Cards
Restaurant Gift Cards – $25
Movie Theater Gift Cards
Gas Gift Cards
Kids Conquering Sickle Cell Transition Tool Kit:
Sponsor a patient to receive a Patient Empowerment Tool Kit. Your gift of $40 provides a tool kit for a patient. Patient Empowered Tool Kit is a helpful resource to our Transitioning Adolescents & Young Adults in preparation for selfcare, visits to medical appointments or hospital stays.
Backpack
Water Bottle
Pill Dispenser
Blanket
Mask
Incentive Spirometer – A Spirometer has been proven to decrease the development of acute chest syndrome when used during pain episodes.
Thermometer – A fever of 101 can be an emergency in patients with Sickle Cell Disease as infection is a leading cause of death.
Heart shaped Stress Ball
Passport to Health notebook- It is intended to empower the Patient in Patient centered care.
In support & response to frequent complaint that PCP's sometimes tell them "I don't know how to take care of you", we have included:
A flash Drive with short & long versions of NHLBI Guidelines for management of sickle cell disease.
Hard copies of ASH- American Society Hematology guidelines for routine maintenance, blood transfusion & hydroxyurea.
Documents are provided for patients to give it to their physicians as they are not written in lay terms.
Nutritional Guide & recipes
Hand Out of Helpful Apps
Clinical Trial Brochure
Brochures on Approved FDA treatments
Reflexology Handout
Coloring Book to help with stressful moments
Kids Conquering Sickle Cell Disease Office Supplies:
8 ½ x 11 white copy paper
8 ½ x 11 colored copy paper
HP Ink: 902/902xl BLACK
HP Ink: 902/902xl Combo Color Cyan, Magenta, Yellow
Labels all sizes
Name Badges
Post it Notes – All sizes
8 ½ x 11 file folders
KIDS CONQUERING SICKLE CELL SUPPORT:
Kids Conquering Sickle Cell Disease has Heart for A Warriors Children & Families fight Sickle cell & related hemoglobin diseases. Our compassion leads us with a desire to do so much more to help families.  Some of our long-term goals include:
Exclusive Venues for Fundraising
Kids Conquering Sickle Cell Disease needs estate homes, restaurants, country clubs, social organizations, businesses and chairpersons to host annual events such as a golf tournaments, bowl-a-thons, and other unique and innovative events held throughout the year to benefit Kids Conquering Sickle Cell Disease Foundation.
A Million Dollar Endowment
We are seeking a one-million-dollar donation from an individual or corporation to set up a permanent endowment. An endowment would ensure stability and sustainability for our organization while providing a facility for patients to receive services.
Planned Giving
Kids Conquering Sickle Cell Disease needs an individual or company to make or organization the recipient of planned giving, allowing for maximum tax deductions by providing annual contributions.
To Make A Donation to Help Fulfill Our Wish List 
Please Contact admin@kidsconqueringscd.org/ 407 844-2474
We Thank You In Advance for Your Support!