The Empowered Caregivers Forum
Providing Unity, Education & Empowerment
Join Us At The Empowered Caregivers Forum
Join a forum created to support & educate parents/caregivers of a child/children or young adult with sickle cell or thalassemia.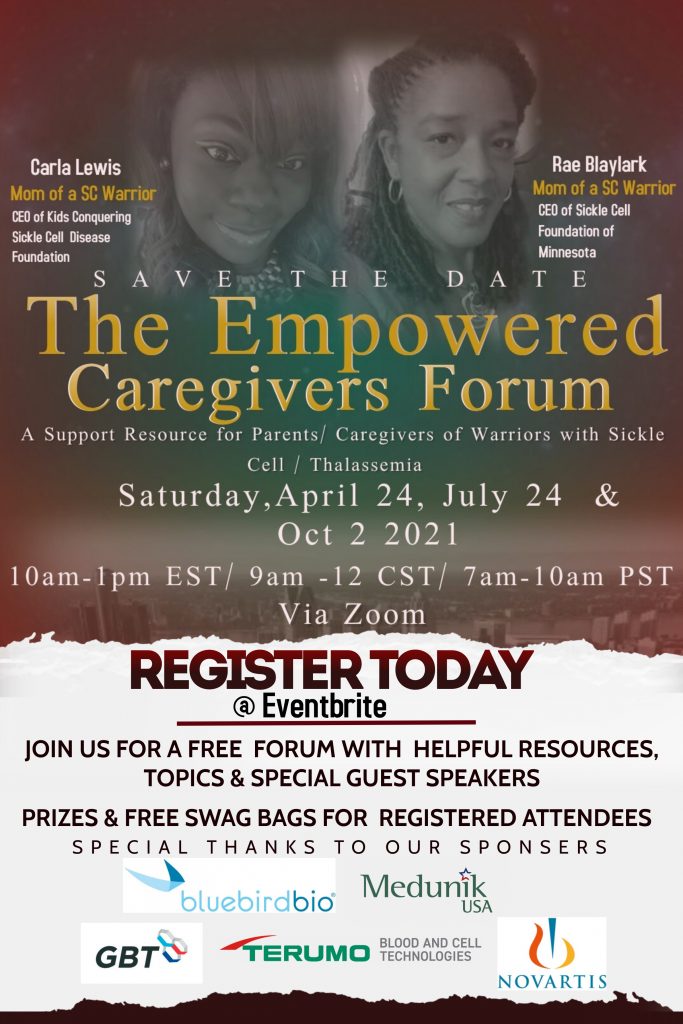 Join Carla Lewis, CEO of Kids Conquering Sickle Cell Disease Foundation and Rae Blaylark, CEO of Sickle Cell Foundation of Minnesota for the Empowered Caregivers Forum.
Host Carla Lewis and Rae Blaylark are mother's of children born with sickle cell disease. We welcome you to join a forum created to support, educate and share resources with parents/caregivers of a child/children or young adult with sickle cell disease/ trait or thalassemia. The forum will provide a safe place for parents to share & ask questions bridging the gap to important conversations.
There are three scheduled sessions:
Session I April 24: Understanding Sickle Cell & Treatments
Session II July 24: Balance: Nutrition, Mind and Body
Session III Oct 2: Silent Damage and Important Decisions
Program Objective:
Upon completion of this activity, participants should be able to:
• Increase knowledge about sickle cell & treatments
• Identify current evidence-based practices to improve care of individuals with sickle cell disease
• Identify resources available to caregivers
• Identify treatments & resources available to individuals with sickle cell or chronic blood disorders
Each session will offer guest speakers and a Q& A discussion session.
Guest speakers include: Simone Uwan, MD, Ramamoorthy Nagasubramanian , MD(Dr. Naga) , Dr. Charlie Ware, Pat Corley, RN, Nashanta Forrest (Parent Advocate), Contessa Edwards (Parent Advocate) & more.
Carla Lewis & Rae Blaylark are parent & patient advocates dedicated to educating the community and support parents /caregivers. As parents they understand that it takes a village of support and resources to provide the best care for children/ young adults living with sickle cell.
We welcome YOU to join us for our interactive sessions! Register Today!
Participant Prizes & Resources ..
*All registered participants with verified attendance will receive a swag bag with our resource packet with information & more. (Swag Bags are for U. S . Residents at this time)
* Each session will include a chance to win prizes!
*Participants that attend all three sessions will be entered in a drawing to receive a Ninja Bender valued at $100.
Register Today! We look forward to meeting you!
If you have questions please contact admin@kidsconqueringscd.org
Special Thanks to our Sponsors:
Gold : Bluebird Bio & Medunik USA
Silver: Global Blood Therapeutics
Bronze : Terumo BCT 
Parton:  Novartis
Thank You Sponsors!
This program was supported via a grant from the following partners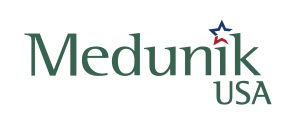 Gold Sponsor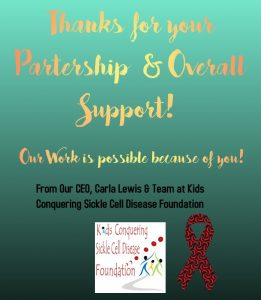 Gold Sponsor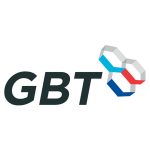 Silver Sponsor

Bronze Sponsor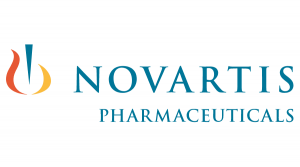 Patron Sponsor